FAQ
Back
Which platforms is the GRN available on during beta ?
Currently, the beta focus of the GR Network is on the web, since it's accessible from the greatest number of devices (both desktop and mobile).
We plan to post an Android app update during beta with several beta functionalities.
Our iOS app is in submission and will certainly release post beta.
Which features of the GunSmith Gallery will be available during the beta ? How does it compare with the features available near GRFS final launch on May 22nd ?
Accessible all the time
<![if !supportLists]>- <![endif]>GunSmith Free mode – try out weapons and their entire attachments sets to make your own unique weapon. Weapons cannot be synced to your console. Note : new weapons will be published regularlyin GunSmith free mode from beta till launch
<![if !supportLists]>- <![endif]>GunSmith Gallery (coming soon) – post your unique weapons for everyone to see, or find a weapon you like created by others
<![if !supportLists]>- <![endif]>Community news in Ghost Feed – get updates from the GRFS community from your main menu
<![if !supportLists]>- <![endif]>Heatmaps – check them
<![if !supportLists]>- <![endif]>Forums
Accessible only during beta (April 19th till end of April)
<![if !supportLists]>- <![endif]>GunSmith Sync mode – customize your weapon anywhere, and sync it to your console
<![if !supportLists]>- <![endif]>Multiplayer stats – access your multiplayer performance
<![if !supportLists]>- <![endif]>Friend challenges & friend activity – get news or challenges from your Future Soldier friends
Accessible only post beta (early May)
<![if !supportLists]>- <![endif]>Unlocks – enter a unique code to redeem one of the 3 exclusive GR Network weapons in Ghost Recon Future Soldier
Accessible only near GRFS launch :
<![if !supportLists]>- <![endif]>All of beta features, aswell as :
<![if !supportLists]>- <![endif]>Squad management on the go
<![if !supportLists]>- <![endif]>Ghost Dossier – track your performance across multiple GR games
<![if !supportLists]>- <![endif]>Heatmaps on all maps
<![if !supportLists]>- <![endif]>Player stats in MP & Campaign
<![if !supportLists]>- <![endif]>Events
<![if !supportLists]>- <![endif]>Tactical tips
<![if !supportLists]>- <![endif]>Improved GunSmith and GunSmith Gallery
It seems that the GunSmith Gallery (or something else on the website) is not working, do we have to use specific browsers and will the full website experience be available for my browser?
The GRN website has been designed to work with all browsers. As it is in beta however, we are taking advantage of this period of time before launch to hear any bug or feedback our players can have. If you find the website to not be compatible with your browser, please let us know on the Ghost Recon Network forums or at grnetwork-support@ubisoft.com
When I click on GunSmith, it says that I have to install Unity Web Player. What is this plug-in? Is it available at no cost? Is it virus free?
Unity is a proven middleware, which is being used extensively by small and major studios. It comes free for the end user. More information about unity can be found at www.unity3d.com
I get a "Error loading Unity player- Bad file length" when trying to access GunSmith. Why and what can I do ?
Our GunSmith Web is comprised of a lot of weapons in 3D, and as such is a big file (around 100MB) to download the first time around. In some cases depending on the performance of your connection, it will take too long to download for your browser and this will result in this error.
Possible fixes are :
<![if !supportLists]>- <![endif]>If you are using a Wi fi connection, try to hook up with a network cable to your router to improve the bandwidth.
<![if !supportLists]>- <![endif]>Close down all other programs running at the same time, especially the ones with network intensive use such as home streaming services or P2P clients.
<![if !supportLists]>- <![endif]>Check your proxy settings and try to establish a direct connection to the site
<![if !supportLists]>- <![endif]>Or try GunSmith web from a different connection for the first time.
Main resource for fixes can be found here :
http://forum.unity3d.com/threads/37466-Web-Player-quot-Bad-File-Length-quot
How do you use GunSmith on the web ?
<![if !vml]>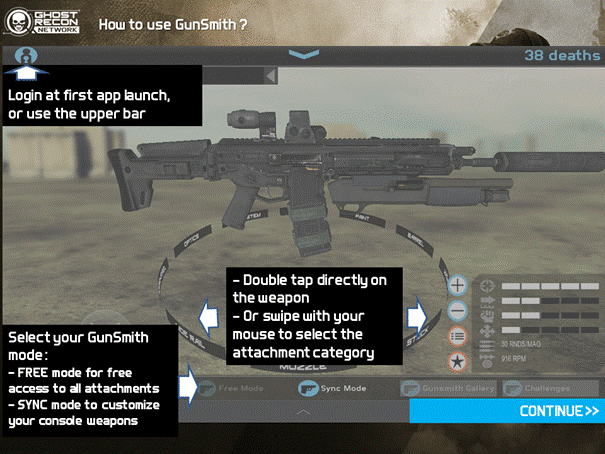 <![endif]>
<![if !vml]>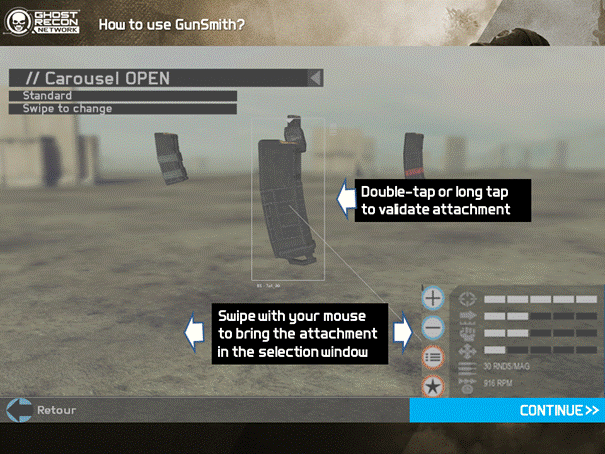 <![endif]>
<![if !supportLists]>- <![endif]>Select your mode in the bottom bar
<![if !supportLists]>- <![endif]>Click and hold ("swipe") to change attachment category, or select directly the weapon part on the weapon itself
<![if !supportLists]>- <![endif]>Double click or long click on attachment to change
<![if !supportLists]>o <![endif]>Note : you cannot select an attachment directly with your mouse, you need to bring it in the selection window
Updates to GunSmith will include :
<![if !supportLists]>- <![endif]>Spend attachment credits within the app
<![if !supportLists]>- <![endif]>Post your weapon in the GunSmith Gallery
<![if !supportLists]>- <![endif]>Get 6 bonus attachment credits to use in the final game within the app
I have login issues.
First, make sure you only click "login" once and wait at least 60 seconds – there is no progress bar at the moment, so while it may look like your login is hanging while it is actually in progress. You should be taken to the GunSmith main screen, or to the platform selection screen.
How can I access Sync Mode ? Once I have logged in I'm still in Free mode.
Once you're logged in, you're defaulted to Free Mode. Select "Sync Mode" in the bottom bar to access your character screen.
In Sync Mode, select one of the 6 slots on the center of the screen and click "Edit Weapon" on the right hand side of the screen. This will bring up the current loadout for the class selected.
Can I use GunSmith Sync Mode on my mobile at the same time as playing on my console (synchronous use) ?
No, GunSmith mobile and GR Network services are meant to be asynchronous. You won't be able to change your weapon on the web or your mobile if it is open on your console. Furthermore, to be able to edit your weapon on the web or your mobile, you will need to log out of or turn off your main console.
How can I join the Network?
You just need a free Uplay account, and a gaming platform (PS3/X360/PC) linked to your Uplay account. In the beta, you can only link your console from the pop-up Uplay screens that appear when you launch the beta – make sure to complete this process if you want to access the GRN.
In the final game, you will be able to both link your console from those pop-up screens and from the Uplay section in the menu.
Warning : without this link, your weapon customization and statistics can't be connected to the Network.
The Network will be partially up and running during the GRFS MP Beta starting April 19th, and will partially shut down after the beta. It will be available again at launch.
How much will I have to pay each month for the service?
The GRN is completely free.
I logged in with my Uplay account, but I don't see any stats. Why is it not working?
You need to make sure you have linked your console to your Uplay account : when you launch the beta, you will be prompted with Uplay screens to link your account to Uplay.
On top of this, you should make sure that you have indeed played the game so we can detect that you are an active Ghost Recon player and get your weapon or player information.
I'm on GunSmith; it says that I'm disconnected, why? (I logged in on Uplay already)
Please try again later.
What is the difference between the Sync Mode and the Free Mode of GunSmith?
Free mode gives you access to all weapons and attachments in "demo mode" : try out any dream combination you can think of to create your own unique weapon.
Sync mode allows you to customize your multiplayer weapons in the cloud – as a result, you will only be able to edit weapons and attachments you have unlocked or purchased in your multiplayer sessions.
I can't use the keyboard to switch between attachments, normal?
Yes, we do not support this functionality at the moment.
How is it possible to buy credit for the Sync Mode of Gunsmith? I thought the service was free…
Attachment credits are GRFS in-game "currency". They are earned solely by playing the game and is not redeemable against real life money.
I see Decoy, Saboteur and Siege in the Heatmaps. In the version of the Beta I have, the only mode available is Conflict (and Saboteur starting April 26th) – why can't I play the other game modes?
Those 2 additional modes will be available when the full game comes out. They are not part of GRFS MP beta.
What does "Movements" means in the community heatmaps?
Movement tracks the movement of all active Ghost Recon players. As a result, heatmaps based on movements display the overall flow of players on a given map. It gives crucial tactical information to any player.
When will the iOS app be available?
The iOS app is not available at the moment and will release near game launch.
I have an Android phone, but I can't install the app on my phone, may you help?
The Android app has been officially tested on a limited number of mobile and tablets (Galaxy S2, Galaxy Tab 10.1, HTC Sensation, HTC Desire HD, Galaxy Note). If your mobile or tablet is not part of that list, we can't guarantee that it will function at this point in time. We will do our best however to ensure compatibility by game launch where technically possible. If the app is working or not working with a phone in that list, please let us know at grnetwork-support@ubisoft.com !
Note that the update for the Android app unlocking beta features (weapon sync, gunsmith gallery access etc) will come after we have released the web version of the GRN.